Eucharistic Adoration
Adoration takes place Monday through Thursday from 12:40pm until 5pm in the Church.
Recitation of the Divine Mercy Rosary occurs on Thursdays at 3pm.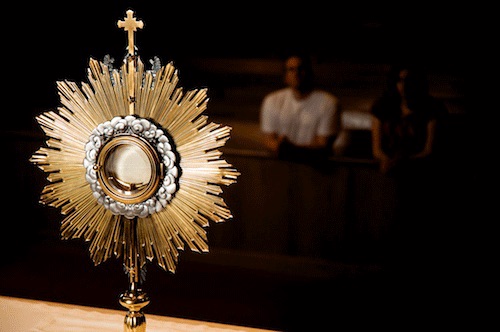 What is the purpose of Eucharistic Adoration? The Eucharist is the greatest gift given to the Church, the abiding presence of Jesus who desires to feed us, heal us, strengthen us and mold us into his own body. At the Second Vatican Council, the Church fathers wrote "The Eucharist is the source and summit of the Christian life." (Lumen Gentium 11).
In other words, all our activities of prayer and good works gain their strength from the celebration of the Eucharist. They lead us back to future celebrations whereby we can renew and deepen our commitment to the Christian life. However, our lives are so busy, and even soon after we receive communion, we are drawn into so many obligations that disconnect us from the reality of who we truly are as members of His body. Adoration, then, becomes a means to remember the One whom we have received and to long for an even deeper communion with each future celebration of the Eucharist.
Maybe we could express it more simply by citing the beautiful words of Jesus that he speaks at the Last Supper: "Remain in me, as I remain in you. Just as a branch cannot bear fruit on its own unless it remains on the vine, so neither can you unless you remain in me. I am the vine, you are the branches. Whoever remains in me and I in him will bear much fruit, because without me you can do nothing."
Silence before the Mystery of Love: This act of remaining in Jesus is an act that is done in silence. Silence sometimes is uncomfortable for people. We feel that if we are not saying something to God, we are not really praying. We are afraid that our silence will soon lead to our minds wandering; while our bodies may be in a posture of prayer, our brain is at the supermarket or work or making lists of things we need to get done this day. How much Jesus desires us to rest in him: "Be still and know that I am God!" Our self-reliance leads to internal chatter. However, to have the Eucharist as a visible focus for our eyes will allow us to be drawn back into a peace as we recognize in Jesus that he really is in charge of our lives. In that silence we find our minds, hearts and souls experiencing a deep peace that He alone can give.
Making a commitment: As we expand the hours of Eucharistic Adoration in our parish, we know that this will draw many people from our neighboring parishes to take advantage of entering and remaining in the peaceful presence of our Lord. However, as the parish that is hosting this event, we want to make sure that each hour of adoration is covered by someone on a regular basis. In most parishes that have Eucharistic Adoration, a person will sign up to be present for a particular day at a particular hour each week. We will have "sign-up" sheets – opportunities for people to make a commitment to a specific hour of their choice. So, during this week, you may want to pray and ask the Lord if he is calling you to make a commitment to be so present in adoration. The Church asks that there always be someone present in the Church when the Blessed Sacrament is exposed. Through our sign-up list, we can make sure that each hour is appropriately covered and that adoration can take place in a manner that is dignified and reverent for all.